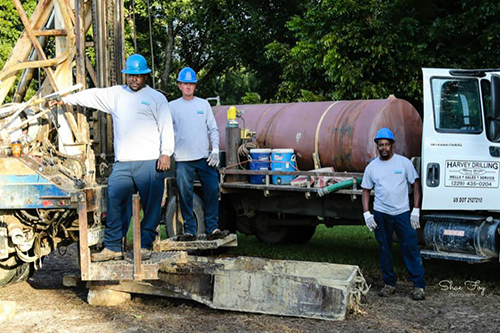 What qualities do you want in your well? Chances are, characteristics like reliability, consistency and effectiveness come to mind. When you hire Harvey Drilling Corp, you can always expect these things and more from your well—and from your well drilling company in Albany, GA! With over 50 years of experience, we have modified our processes down to a nearly perfect science, and that shows through in our work, which is quick, but never cuts corners. Harvey Drilling Corp is happy to work with residential, agricultural and irrigation well projects. Here is a closer look at each of these services:
Residential: With residential wells, we know that we are taking on a project that will greatly affect you and your family. From the initial tests to the final drilling stages, our caution, practicality and expertise will define the entire well drilling process. In the end, you will have a residential well you can truly rely on.
Agricultural: As a local business, we truly understand how important agriculture is to our greater community, and the reasons why agricultural wells play a major role. By hiring an experienced local company for well drilling in Albany, GA, you will benefit from our specific knowledge and resources.
Irrigation: Irrigation wells are inherently different from the other wells we drill, and we are always up to the challenge. We have fully certified drillers onsite, ensuring that everything is accurate and seamless. Once we've completed the job, we will be happy to help with follow-up maintenance tasks as well.
When you hire the best, you get quality that lasts. If you are interested in having us drill a residential, agricultural or irrigation well for your property, please get in touch with Harvey Drilling Corp soon. You can give us a call at 229-435-0204 or visit our Contact Us page.